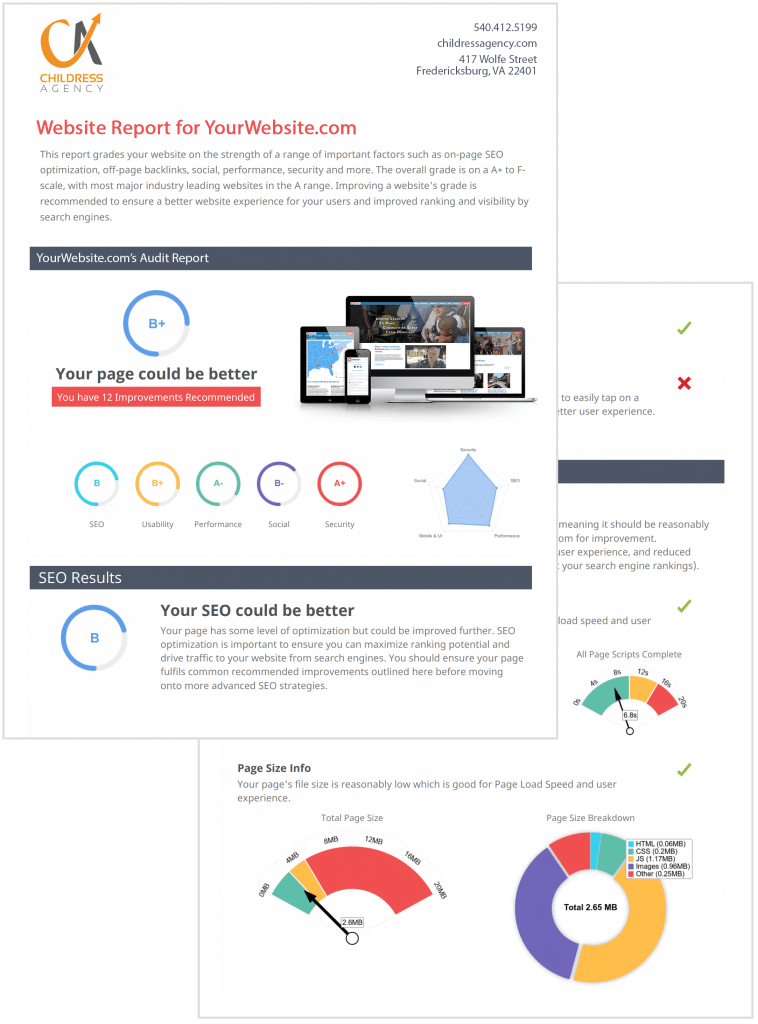 Getting your website to rank in Google is harder and more competitive than ever.
There are many factors such as on-page content, performance, social media factors, and back-link profiles that search engines like Google use to determine which sites should rank highest. When all things are in balance, you have a "Search Engine Optimized" website.
Our SEO Audit v. Others
There are agencies and companies that will charge up to $1,000 for this type of report or service. Childress Agency would like you to have this report for FREE!
You are under no obligation to purchase from us when we perform a detailed SEO analysis across 100 data points on your website, and provide clear and actionable recommendations for steps you can take to improve your online presence and ultimately rank better in search engine results.
---
Who Should Get an SEO Audit?
This tool is ideal for website owners, website designers, and agencies like ours who want to monitor and improve their clients' chances of being found on Google by the next customer.
Our audit tool is better than other website SEO checkers due to its lean coding, JavaScript rendering, and breadth of features.
We also check for backlinks, meta tags, and robots.txt which will help take you through the actual steps of improving your site if you have the technical skills to make such changes.
After you have created your report, you will likely have questions. A Childress Agency SEO specialist will follow up with you to discuss the report and your plan to fix the items suggested, and how we might be of service to you.
---
Let's See How Well You Score:
---
Even the Best May Not be A+
It should be noted that even great websites may score lower than expected in some areas due to the nature of their content or where the content comes from. For example, a news aggregator website that relies on exterior content to populate its page will score lower than a website whose content is native to its own server/directory.
This doesn't mean that one site is better than the other or has a reduced quality user experience, but merely that from Google's standpoint, it is more computer-labor intensive to present the user with the same looking aggregated information and is accordingly scored lower.
How Google Scores Websites
Conversely, a simple website with only a few blocks of text on it may score higher because it loads faster and has very little code to digest before rendering a page. This doesn't mean that the user experience or website itself is better, but it may be scored higher than a site with much more information (and value) to the reader. Don't make it too simple however, Google needs to see at least 300 words to rank the site.
A website that is a commonly used template, poorly programmed (disorganized code and a lack of meta tags), lacking page titles, missing image names, and has text that is unrelated to the titles, will always be scored poorly. There is no substitute for a properly made, custom coded, SEO written, unique website in both Google's ranking system, and in your customers' opinions.