Why Businesses Need Digital Marketing in a COVID-19 World
80% of the US population is currently on social media.
Is your business?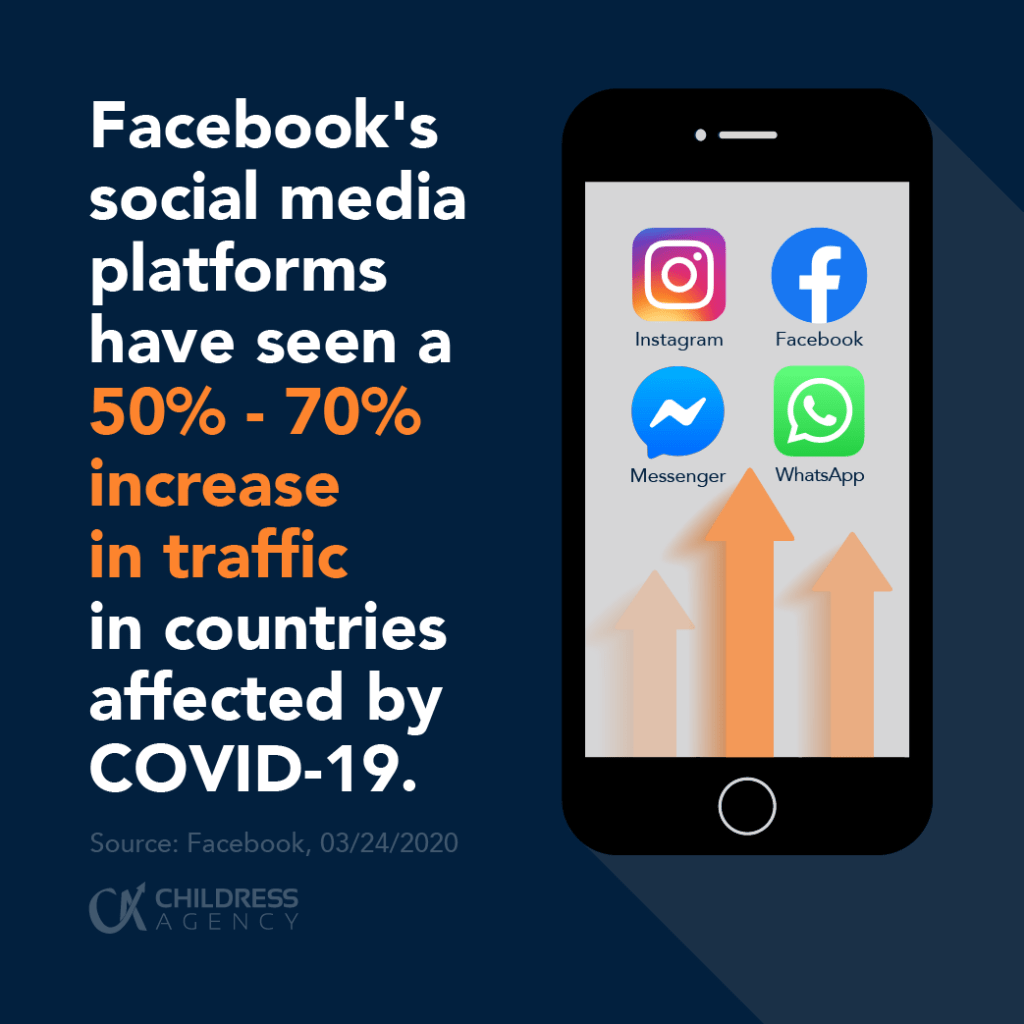 With the recent outbreak of COVID-19, businesses need to have digital marketing strategies as more and more people are turning to social media, both as a source of information and to pass the time while stuck at home.
According to a recent article, Facebook's social media platforms have seen a 50%-70% increase in traffic in countries affected by COVID-19.
This is why digital marketing for your business is crucial now more than ever.
---
How Your Business Can Benefit from Digital Marketing
---
"The usage growth from COVID-19 is unprecedented across the industry, and we are experiencing new records in usage almost every day."

–Article from Facebook Executives, 03/24/2020
66% of social media users agree, saying that when confined to their homes due to the coronavirus, their usage of social media habits will increase.
Promotion through social media can help:
1. Increase your Visibility and Brand Awareness
2. Engage and Communicate with Customers
3. Build Credibility and Trust
4. Advertise Products and Services
5. Boost Website Traffic and Conversions
Put your advertising dollars where potential clients spend the most time. Place your marketing campaigns where clients are already active online using tools like Facebook Ads and even Google Search and Display Campaigns.
---
Tips for Social Media During COVID-19
---
Beyond what social media marketing can do for your business, there are many other ways to make your company stand out from your competitors right now and reassure your customers.
1. Stay in contact with your customers.
Communicate immediately with your clients and update them on any new policies and how you're adapting to COVID-19 to keep the safety of your clients and staff at the forefront.
Are you working from home? Do you have updated hours? Any new policies to help improve sanitation and social distancing? Use social media platforms, email campaigns, and even website updates to communicate that clearly and quickly.
2. Use live video tools.
Most common social platforms such as Facebook, Instagram, Twitter, YouTube, and more have "live" video features to reach your audience immediately. Read more here on how to live stream.
This may be uncomfortable for many business owners to try out, but it's a great way to engage more people, get information out fast, and to reassure viewers with a friendly face.
In fact, it's been found that people spend 3x more time watching Facebook live videos compared to pre-recorded ones. You can prompt engagement by scheduling this live event, doing a demo or simple "how-to," having a Q&A session, or just sharing news about your business.
People in social isolation will be seeking opportunities to interact with people – including businesses – face to face, online at a social distance.
3. Use Facebook Ads.
Facebook, Instagram, Twitter, LinkedIn, YouTube, and other social media platforms are all great places to post organic content, be seen, and keep up with your consumers.
Besides building and engaging audiences with organic posts, Facebook Ads are an affordable way to target specific demographics – such as age, location, interest, and other behaviors – and promote your business, services, and webpages directly. Reach thousands of people in your area and generate more leads at rates as low as $5/day.
Need help getting started and setting up your ad campaigns? We've got you covered.
4. Run campaigns with new incentives.
People use the internet to gather information, compare prices, and find services. Many of these website visitors will view your site without completing any conversions. Try a new strategy to compel them.
Especially during this pandemic, people may be skeptical to let you into their home to complete a service, or even just spend money on things they find non-essential. Adding an incentive, new discount, or promotion increases your chances of converting these customers.
---
Final Thoughts
We know small businesses in the United States are suffering more and more due to COVID-19. It has disrupted the way most of us live, disrupted the economy, and the way we can conduct business in almost every industry.
Childress Agency wants to help. COVID-19 has disrupted our lives; don't let it also disrupt your business.
---
Get Assistance from Our Digital Marketing Team
Our team of expert digital marketers, content creators, and web developers are ready to develop a digital marketing strategy to help your business succeed in the long run.
From running Facebook Ad campaigns to Google Display and Search ads, talk to us about the best solutions to make your business be better found online.
Call (540) 412-5199 today to speak with our experts and start boosting your business through digital marketing campaigns.